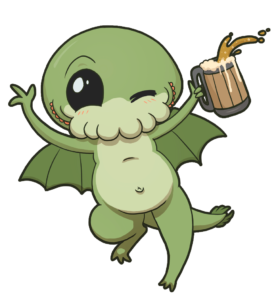 Update:  The filks performed by Filkkifriikit at the evening party.
Finncon wouldn't be Finncon without parties!
The official Finncon evening party is held on the second floor of Panimoravintola Koulu (address Eerikinkatu 18) on Saturday 14 July. Traditional awards ceremony for the masquerade contest and the book launch party as well as other relevant shenanigans will be part of the program.
The official venue upstairs opens at 7 pm when the program starts but other sections of the restaurant are open earlier. The entrance fee to the party is 3 €, but supporting members, volunteers and masquerade participants get free entry. The evening programme will also include Finncon's traditional table hockey tournament, Finnconkampen. This whimsical and relaxed competition will be run this year by Hannu Pajunen. You can register for the tournament between 7:00-7:15 pm at the tickets sales point.
Evening Programme:
17:00       Doors close at the university
18:00       Doors open at Panimoravintola Koulu
19:00       6-book joint book launch starts in the History class (1st floor)
19:00       Ticket sales and upstairs open
19:15        Finnconkampen begins
21:00       Masquerade awards ceremony
22:00       Scifi-stand-up á la Tommi Vänni Cancelled
23:00       Ticket sales close
02:00       Doors close
Cosmic Comic Cafe (address Kauppiaskatu 4) offers an unofficial kick-start to the con weekend on Friday 13 July. Theme realated music and other appropriately weird entertainment to parties interested will be included. (However, this function is not officially affiliated with Finncon 2018 and the location is not wheelchair accessible.) In case CCC gets too crowded, the city centre has many other interesting options, e.g. Baaribaari (Aurakatu 14), located on the other side of the market square, Panimoravintola Koulu down the road, and Portti (Hämeenkatu 7) as well as Proffan kellari (Rehtorinpellonkatu 6) stone's throw away from the actual con area.