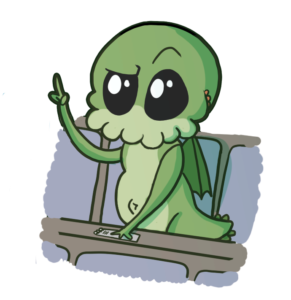 The Finnish Society for Science Fiction and Fantasy Research Finfar arranges academic programme both before and during Finncon 2018. The Fantastic Paper Workshop on July 12 & 13 is a closed feedback session for students and researchers. The Academic track during the weekend is open for everyone.
Fantastic Paper Workshop July 12 & 13 2018:

The Finfar-seminar ‒ Fantastic Paper Workshop is a closed feedback session for written research papers. You are welcome to participate, whatever your level of study or scholarly experience is. In the previous fourteen years, we have had participants in e.g. Bachelor's, Master's, PhD, and Post Doc level. Whatever is closest to your current level, we have a lively discussion in store for you! Finfar-seminar also suits perfectly as your first research seminar outside your Alma mater.
The papers are read by all participants beforehand, and the workshop is dedicated to discussion. Each individual paper will receive 30 minutes of time and will have two professional scholars on science fiction and fantasy acting as vanguard commentators. After our vanguard commentators, the discussion on each paper will be opened.
Due to the participatory nature of the workshop and limitations on time and space, the workshop is open only for the participants and designated commentators.
Please submit your final paper
 for the seminar to Jyrki Korpua (jyrki.korpua@oulu.fi) no later than June 20th, 2018. The final paper should be approximately 10,000–15,000 characters in length and submitted on .rtf, .doc or .odt format. You can submit a paper either in English or in Finnish.

Please also note that at 14th and 15th July there will be Finncon 2018 held at the University of Turku. Finfar society is also hosting the Academic track at the event. Further information about Finncon at https://2018.finncon.org/?lang=en.
If you have any further questions about the workshop, please contact Jyrki Korpua (jyrki.korpua@oulu.fi).
Academic track July 14 & 15:
Call for Papers for the Academic Track at FINNCON 2018:
"Encounters"
July 14–15, 2018, University of Turku, Finland
Finncon 2018 is one of the largest European events focusing on science fiction and fantasy. By tradition, it forgoes all membership fees, and is open for anyone and everyone. Dozens of presentations, panels and lectures discussing all imaginable aspects of science fiction and fantasy will be divided into programme tracks, most of which will be in Finnish, with some content in English or Swedish.
As per usual, Finncon 2018 includes a multilingual academic track, organised in cooperation with Finncon 2018 and Finfar, the Finnish Society for Science Fiction and Fantasy Research. The aim of the academic programme is to bring together a wide range of scholars working around various speculative themes and genres. This enables a broad, interdisciplinary discussion on the many ways in which fantasy, science fiction, horror and their myriad subgenres take their readers, users, and consumers to strange worlds, and in contact with strange creatures.
The theme of Finncon 2018 is Encounters, broadly understood, and the same theme will be the focus of the academic track. As dictionaries tell us, an 'encounter' is something that happens when you meet someone, significantly, and often unexpectedly. An encounter can also be a particular type of experience, for instance your first encounter with science fiction, or your first encounter "of the third kind". We now invite proposals for scholarly papers that seek to examine, interrogate, and expand research related to any aspect of any kind of encounters, occuring in fiction targeted at any age group, in any medium, and/or based on any academic discipline.
This year's Guest Scholar is Dr Merja Polvinen, a senior lecturer in English philology and docent in comparative literature at the University of Helsinki, who will give a plenary lecture and comment on the papers presented in the academic track. Other guests of honour at the Finncon 2018 include writer Lauren Beukes from South Africa and Finnish fantasy author Maria Turtschaninoff.
If you wish to be a part of the academic track 2018, please submit a 500-word proposal describing the content of your proposed paper, along with a few words about yourself and your research, to Jyrki Korpua (jyrki.korpua(at)oulu.fi) by April 30, 2018. Please note that each paper will be allotted a maximum presentation time of 20 minutes and plan your paper accordingly.
Accessing Turku from Helsinki is easy, with several direct train and bus connections running daily (with a drive time of 2 to 3 hours). There are also direct flight connections to Turku from several European cities, including Helsinki (for more information, visit: http://visitturku.fi/en/visit-turku-en/turku-environs/getting-around). The University of Turku, located on the University Hill, serves as the convention venue.
If you have any questions about the Finncon 2018 or the Academic Track, do not hesitate to contact Jyrki Korpua (jyrki.korpua(at)oulu.fi).